About A cappella Boot Camp (ABC)
After ABC, you'll say: "I can do this. I can make my own amazing album."
A cappella Boot Camp is a 5-day, highly intensive recording seminar. Set foot in our award-winning studio, and we'll take you by the hand, showing you how to plan an album project, choose a track list, pick out equipment, set up your gear, manage your project efficiently, record amazing tracks with your group, market your music, handle licensing, and much more. We'll arm you with the tools you need to be in control of your music, save a boatload of cash, and have a good time while doing it.
No experience? No problem. Halfway there? That's fine too. Whatever your experience level, we'll give you time- and money-saving tips that will help you produce your very own a cappella recording project.
ABC is led by two a cappella industry leaders, Dave Brown and Freddie Feldman. They have a combined 40+ years of a cappella performing, recording, and coaching experience that they bring to every ABC seminar.
Click here for a detailed workshop schedule.
Interested in enlisting? Click here and we'll send you more info. No commitment required.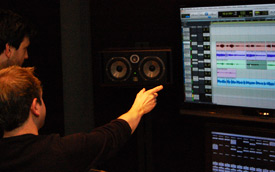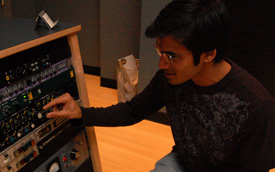 The Survival Kit
Every student of A cappella Bootcamp will receive a Survival Kit that contains:
STUFF!
Hardcover printed book, On-Time and On-Budget: Managing Your A Cappella Recording Project (expanded edition), by Freddie Feldman
A Farley's Essentials PocketTones electronic pitchpipe
A bottle of Entertainer's Secret throat relief spray
A one-of-a-kind package with complimentary copies of the latest albums from some of the best professional a cappella groups in the world (donated especially for ABC by the pro groups themselves), including:

Basix: Diversity
Club For Five: You're The Voice
Firedrill: ...Sings Without Music Vol. II
Hyannis Sound: On The Clock
m-pact: m-pact
The Real Group: The Real Album
Rilton's Vanner: Japanmix, De vill att vi bugar och niger, and Har ar passion
Sonos: SonoSings

Lifetime-enrollment in the private A cappella Boot Camp Forum where all ABC alumni can discuss recording
And more!!!
DISCOUNTS!
Exclusive discount code for Sweetwater Sound when purchasing recording gear
Membership card good for two-year 20% Discount on mixing services at VOCOMOTION Studios
And more!!!
Hear The Results
As a beginner, tracking and editing your own incredible a cappella recordings can feel like a daunting task. But take a listen to some of your peers--you could be next!
Each of these songs was recorded by the group itself, then mixed by Freddie Feldman at VOCOMOTION Studios. Check out the finished product:
Bottle It Up
Eleventh Hour
(Kettering Fairmont HS)
Did A Little
Basix
(Denmark)
Sky
The Fault Line
(Ithaca, NY)
All Around You
Vocal Line
(Denmark)
The Bone
The House Jacks
(San Francisco, CA)
Come to ABC, and soon your very own music could be featured right here on this page!